WETATi NIGERIA IMPACT!
 Creating Opportunities! Raising Hope! Building the Youths!
FINDING OPPORTUNITY AND HOPE FROM THE LEAST LIKELY SOURCE!
….It brought about a shift in paradigm for me. Right now the negative mindset I had towards my country has been shifted to a positive one….
Onichabor Stephen Mobolaji, WETATi- Nigeria TEAM LEADER
I'm proud to say I left the empowerment program a changed person, my mind is renewed, empowered and the hope of a greater Nigeria is rekindled in me….
…because of that, I am offering to VOLUNTEER my talent and service to help make Nigeria better through the WETATi platform and messages.  #Nigeriaismyown
My name is Onichabor Stephen Mobolaji, this is my testimony and story on how WETATi changed my life and what  I am doing about it by joining the movement.
 I was privileged and pleasantly surprised and pleased to be a part of the 2015 WETATi USA-UNILAG Youth Empowerment program that took place at the university of Lagos Nigeria.
I am a college graduate in Nigeria and after graduating my friends and I who graduated together have been looking for work but to no avail. One faithful day, one of my college friends called me and told me to follow him to an event. I had no idea where he was taking me to but I followed him due to the level of trust I have for him. When I got there I realized it was about WETATi USA -UNILAG Youth Empowerment conference in Lagos Nigeria.
After settling down and listening to some of the speeches/programs especially that of Dr. Dureke and learning what the theme was, I knew I was in the right place and at the right time. I listened to a whole lot of things in a different way for the first time.

I am one of many Nigerians that believe there is no more hope for Nigeria. It is not our fault though because living in a country with rising unemployment each day, the system produces lots of graduates but very few jobs are available, corrupt leaders, no electricity, etc. will make you lose hope in a lot of things. I am proud to say I left the empowerment program a changed person, my mind is renewed, empowered and the hope of a greater Nigeria is rekindled in me. I also left the conference believing that I can start and succeed my own business based on what Dr. Dureke taught us about the power of becoming an entrepreneur at any level and she has been helping me do just that since then.

"There can be no change without change, there can be no change without challenge and there cannot be change without sacrifice." I remember having this dramatic pause when I heard Dr. Margaret make the above statements. This particular statement inspired me a lot amongst other empowering things she said during the three day program of which I participated in. It brought about a shift in paradigm for me. Right now the negative mindset I had towards my country has been shifted to a positive one. I have to change for Nigeria to change; an inside-out kind of Change. I now believe in Nigeria. One of the phrases that Dr. Dureke said over and over again that stuck with me and many of my friends that attended is "Nigeria is our own?" as she asked us over and over again after we answered yes and repeated the phrase then she said, "if Nigeria is your own why do you not care and why do you not take charge of it and do something about it within your power because everyone can do something and can contribute no matter how small." #Nigeriaismyown.
During the conference Dr. Dureke emphasized a lot about the importance and the power of volunteerism and community service which never occurred to me before. My firends and I volunteered throughout the conference as soon as she charged us to do so the first day. Shortly after she went back to the States I reached out to her and told her that I am all in with WETATi's vision and mission and will do everything I can to put WETATi in the minds of every Nigerian because now I believe there is hope for this country and Dr. Margaret Dureke rekindled that hope in me and so many others too.  For these reasons and much more, I am offering to volunteer my talent and service by building the WETATinigeria.com website to help in the movement.  #"NigeriaIsMyOwn" –
Today Stephen has grown with WETATi by going above and beyond to take initiatives in the areas he sees that WETATi needs help and doing something about them. He is very reliable, very trustworthy and reliable and resourceful. All WETATi did was help him bring out his God given talents, believe in himself and support it and we believe that is all MOST youths are asking for.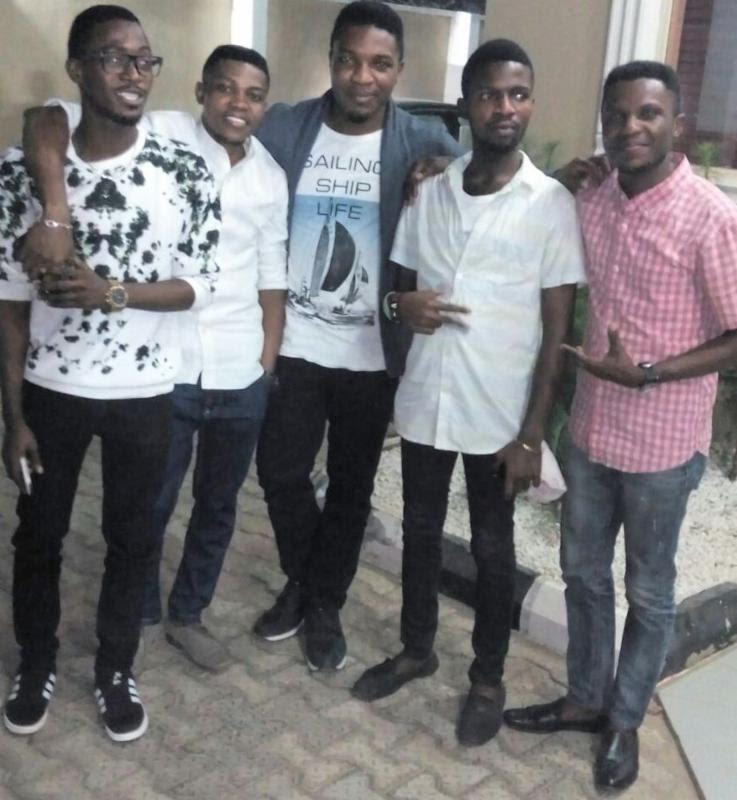 Stephen second from the left
Today we are proud to announce that Stephen Onichabor is one of the WETATi Nigeria Team Leaders and he is the official web-developer  of WETATinigeria.com.  We are very pleasantly surprised and thankful that our work is not in vain. It is refreshing to see this and we are very encouraged to do more as a result of youths like Stephen and his friends. We now call them the sons of WETATi.  They all helped a lot during the conference.    
Steve and his friends at the conference: Steve-third from the left
Lesson Learned: Because he was willing to practice what he learned at the conference and decided to volunteer his service without being asked and expecting anything in returned, his life changed for better. Today Steve is a WETATi Nigeria TEAM LEADER. So try God and serve your fellow being unconditionally and see what happens…miracles and favor of God will find you everywhere you go effortlessly. POWERFUL Testimony! Congratulations Steve! We are very proud of you. Keep it up because it gets better.
Visit  
WETATiNIGERIA.com
to see the great work Stephen did on his own to add
value and create his own opportunity.
_________________________________________________________________
***CELEBRATING 5 YEARS OF SUCCESS & GODS' GRACE*** !!!
WETATi ANNUAL  INTERNATIONAL CONVENTION 
WETATiwood  Red Carpet AWARDS & SCHOLARSHIP BANQUET 2016